Wireless Body Area Network ( WBAN )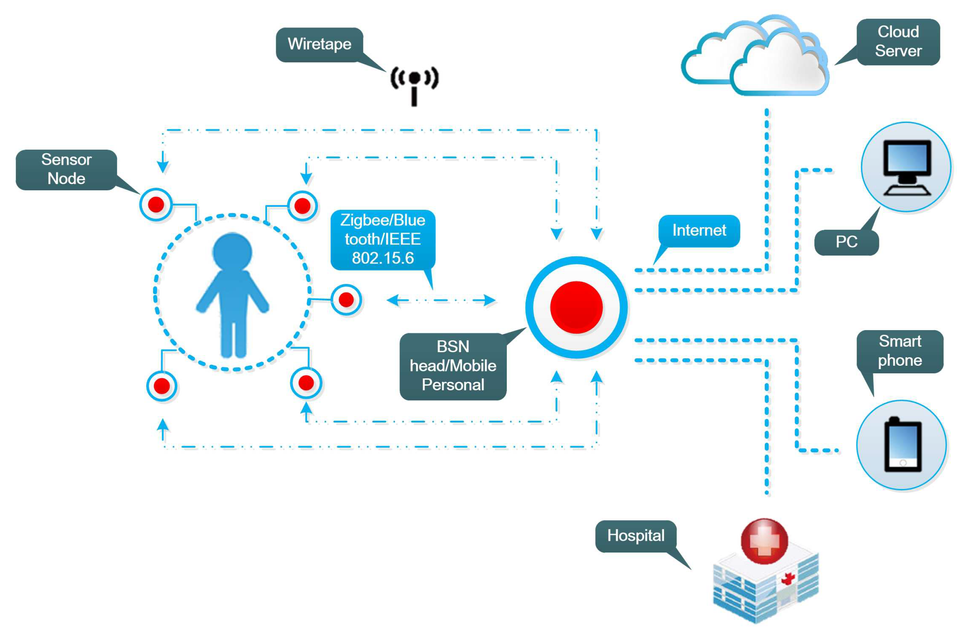 Wireless Body Area Network is a wireless network of devices which are wearable. These devices can be implanted inside or outside the human body. These are a type of body sensors mainly used for medical and healthcare systems. A WBAN can operate independently for the connection of various medical sensors and devices which are located inside or outside the human body. The idea of WBAN is developed keeping in mind the concept of WPAN(Wireless Personal Area Network) which is used for communication in a limited range around the human body.
WBAN is very helpful for professionals in medical line as well as for patients. The health of the patient can be monitored using this network at a distant location. Each node in a WBAN is an independent node which is able to search and find a suitable path for transmitting data at a remote location. The WBAN node can also connect to the internet for transmitting data. Using WPAN as a gateway, WBAN can be extended to a wider range and also the wearable devices on the human body can be connected to the internet. Information Technology is working in a big way to make the health care sector more efficient and advanced. With this technology, patients can be monitored at their homes thereby saving cost and time.
The applications of Wireless Body Area Network(WBAN) are limited. A lot of development and research is going in this area to widen its applications range. WBAN find its application mostly in the medical and healthcare systems. Following are the main applications of WBAN:
Remote Patient Monitoring – Telemedicine and remote patient monitoring are the main applications of WBAN. Telemedicine means diagnosis and treatment of patients located at a remote location using information technology. WBAN has made it possible for delivery of certain healthcare services for patients at a distant location. Using telemedicine more and more patients can be served. Body sensors collect signals from the body and transfer it to the distant physicians and doctors for processing. Doctors can use this information for health estimation for medical diagnosis and prescription. This will create a smart health care system. Daily-life activities of patients can be monitored to collect vital parameters from the human body.
Rehabilitation – Through rehabilitative treatment methods, patients can restore their normal functional capabilities. Proper rehabilitation measures and therapy can enable a person, who has experienced a stroke, to function independently. These patients are constantly monitored to maintain a correct motion pattern. The main application of WBAN in this area includes sensor diversification, data fusion, real-time feedback and home-based rehabilitation health through devices that constantly monitors bodily activities. This will create awareness regarding certain physiological activities.
Biofeedback – Through WBAN, remote monitoring of human body can be done. The data collected by sensors can be accessed to gather valuable parameters from the body. Patients can look after and maintain their health through the mechanism of biofeedback like temperature analysis, blood pressure detection, ECG, etc. Biofeedback means maintaining and improving health through devices that constantly monitors bodily activities. This will create awareness regarding certain physiological activities.
Assisted Living – This helps in improving the quality of life. Assisted living technologies enable elderly and disabled people to be monitored at their individual homes. This will lower the healthcare costs. Through these devices and technologies, the condition of the health of the people can be estimated appropriately.
Source: techsparks.co.in